Accreditation & certification
To secure a high quality of the offered services, the NGI laboratories work according to the European quality standard ISO/IEC 17025 and are accredited by SWEDAC as testing laboratories for genotyping and sequencing (see the different scopes below). New methods and protocols are continuously validated and added to the collection of accredited methods. The quality of genotyping and sequencing is monitored by regular comparison of the performance of the methods against data from other laboratories.
As accredited laboratories, the genotyping and sequencing processes, and user contacts and management are audited regularly on-site by SWEDAC prior to continuation of the accreditation.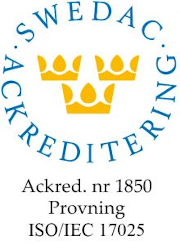 Scope of accreditation
---
---
Uppsala Genome Center is a member of PacBio Certified Service Provider Program, a global network of validated sequencing service labs that provide access to PacBio technology.
Last Updated: 8th May 2023